Marriage and Family Therapists Online Programs and Schools
Find Programs to become a Family Therapist
How to become a Family Therapist with a Psychology Degree
Few social structures hold as much importance in modern society as the family unit. With problems like divorce, infidelity, mental health issues, and financial struggles plaguing today's families, it's particularly important for struggling spouses and children to get the therapy they need to stick together. When you become a family therapist, you learn about the human development side of familial structures and the psychology of family units.
This is an exciting time to start your career in the field of family therapy, as approaches to family therapy education are evolving. A recent study in the Journal of Marital and Family Therapy found that it's crucial for schools to teach multiple theoretical approaches to family counseling students, since empirical evidence suggests that multiple methods are effective.
With a Master's degree, PhD, or PsyD in marriage and family therapy, you can help those who want to keep their family together but may lack the resources to do so. Take the first step by contacting family therapy programs below.
Marriage and Family Therapists Online Programs tend to be hybrids, as they require independent and interactive home study as well as a professional internship. The length of time it takes to complete a family therapy degree varies, with most online programs offering graduation within four to six semesters.
Unlike many psychology degree programs, which are intended to prepare the master's candidate for continuing on in school to receive a doctorate degree, programs that emphasize marriage and family therapy generally assume that the student will go directly into practice. They tend to place a heavy focus on requirements that the graduate needs to sit for his or her state licensing exam.
The most likely candidates for online programs in family therapy possess a bachelor's degree in one of the helping professions, and can demonstrate motivation, scholarly potential in the form of undergraduate transcripts with high grade point averages, and the self-discipline required to be an online learner.
Online Family Therapy Programs to Consider
Saybrook University: Saybrook places a strong emphasis on humanistic values such as understanding and celebrating cultural diversity. The university strives to work with nontraditional students, helping them balance distance learning and hands-on experience. After completing this program, students will have met requirements to sit for the California Marriage and Family Therapy License Examination.
California Southern University: This university offers an online Master of Arts program with an emphasis on marriage and family therapy. The program includes around 50 hours of instruction and can provide graduates with the required education to sit for the licensure exam in California. Courses are offered in counseling theories, family systems theories and the psychology of aging.
Liberty University: Liberty University Online is a Christian-based school, which offers a Master of Arts in marriage and family therapy. The program requires at least 60 total graduate hours, an internship and a practicum. The curriculum and internship experiences offered by Liberty University do not satisfy licensing agencies from all states. A student can check on the Liberty University website to see whether his or her state will accept a degree from Liberty.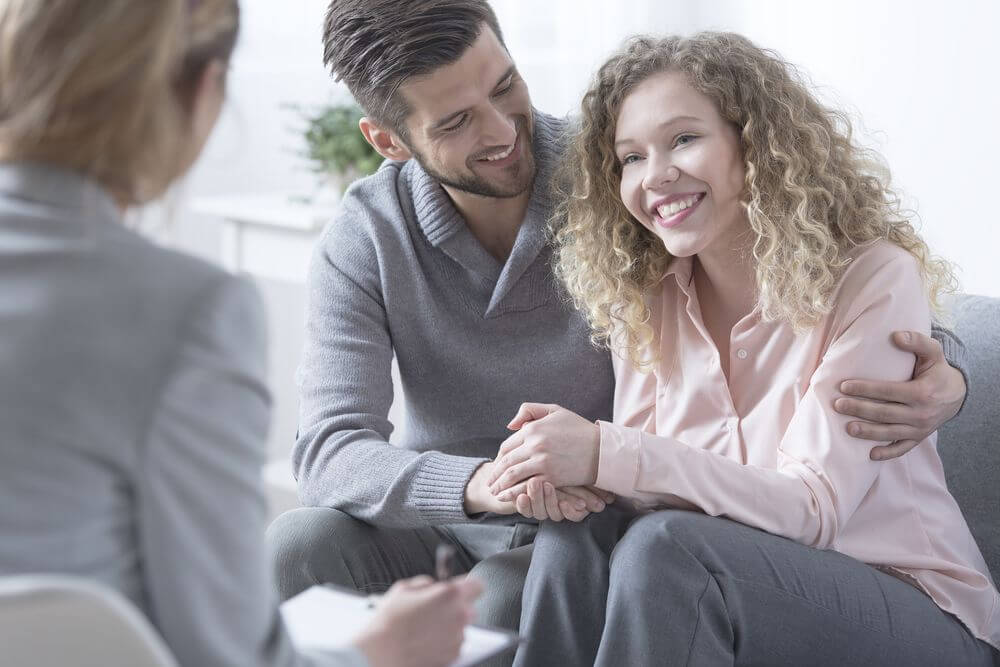 Introduction to Family Therapy Careers
It should come as no surprise that there is an entire profession devoted to sorting out the issues that can come up within a family. Family therapists help to evaluate and address these issues, identifying problems and helping each member within the family to communicate better.
Useful Resources
LMFT Licensing Requirements
Family therapists sometimes also work as marriage therapists, combing the two professions into a single job: licensed marriage family therapist, or LMFT. The profession is also sometimes abbreviated to just MFT, for marriage family therapist.
In order to get licensed to practice you need a graduate degree and a license to practice in your state. Licensing requirements vary by state, but generally require about two years or 3000 hours of supervised experience and a passing score on the National MFT Exam, otherwise known as the AMFTRB.
LMFT Job Description
Family therapists sometimes also work as marriage therapists, combing the two professions into a single job: licensed marriage family therapist, or LMFT. The profession is also sometimes abbreviated to just MFT, for marriage family therapist. Most family therapists work out of offices, either within private practices or community health institutions. An average day consists of meeting with various patient groups and providing counseling services during scheduled appointments.
Unlike most other counseling jobs, which are focused on the difficulties of a single individual, family therapists focus on treating the family unit as a whole, concentrating on key problems in order to improve understanding among family members. In some cases, a family therapist may refer a person within the family to a specialist for individual treatment. The main goal is to pinpoint the origin of a problem within the family's existing environment and then work to improve the situation.
Family Therapy Requirements
Family therapists are required to have a license before they can begin treating patients. In most states, this means obtaining a master's degree in either counseling or marriage and family therapy, as well as completing at least two years of experience under the supervision of a working therapist. After this, aspiring family therapists must pass a state licensing exam. It is also possible to earn a doctorate degree in family therapy, which can improve job prospects and open up opportunities in teaching and research.
Personal qualities required for the job include excellent communication and leadership abilities as well as a composed demeanor. If a counseling session dissolves into a screaming match, it's up to the therapist to take command of the situation and calm everyone down. Family therapists should also be resilient, as the job can often expose the therapist to emotionally difficult situations.
Family Therapy Career Trends and Outlook
To learn how to become a family therapist, you must first have a Bachelor's degree in psychology, human development, biology, or another physical or social science. From there, you can earn a Master's degree or doctoral degree in family therapy. A Master's degree allows you to become a licensed family therapist, while a PhD or PsyD enables you to conduct research or work as a clinician. Whichever route you choose, you can feel confident about your choice to serve families in your area and provide much-needed services.
The role of family therapy students is crucial in many clinics around the country. Fox61reports on a Connecticut school that provides free counseling services to military veterans and their families by using the services of supervised family counseling students (2016).
Through 2024, the need for family therapists may increase much faster than average when compared to other career paths (O*Net, 2017). The average family therapist salary is $49,170 per year (O*Net, 2017), making the nearly 12,000 anticipated new jobs a solid career choice. When asking "how much do family therapists make?" keep in mind that salaries vary for those who go into private practice, take on salaried positions, and work for nonprofit agencies.
You may also work with families who have been negatively impacted by substance abuse and mental health disorders. Substance abuse counselors earn a median income of $41,070 per year (O*Net, 2017). Projected job growth in this specialty is similar to what is predicted for family counselors, with over 14% growth expected through 2024 (O*Net, 2017).
You can provide families with the resources they need to thrive in today's world. Compare options with our list of family therapy schools below.