Careers in Psychology: Jobs for Every Level of Psychology Degree
Pursuing a career in psychology requires careful deliberation of required degrees, professional pathways, and potential salaries. Given all these considerations, you may find yourself overwhelmed by the next steps. If so, we're here to help. Over the course of this guide, we'll cover the myriad psychology and psychology-related careers available, with special sections dedicated to the most popular psychology careers out there.
Because so many different psychology careers exist, you might be looking for in-depth information about each one to help differentiate what a day-in-the-life looks like and figure out which path suits your skills and interests best. You've probably also heard that jobs in this industry depend largely on the level of degree you hold – as do salaries. Whether you're interested in testing the waters with an associate degree or taking the final step with a doctorate, this page covers each degree level and thoroughly explains the different career paths you can pursue after graduating. Whether you're interested in working as a psychiatric aide, mental health counselor, marriage and family therapist, researcher, professor, or clinical psychologist, you can learn more about what each of these entails and how to become one.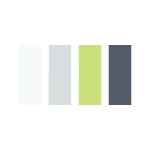 Popular Types of Careers in Psychology
As you'll likely notice after spending some time researching career paths in psychology, you can do many different jobs with training in this field. Because so many industries and disciplines are interested in how we humans think and feel, positions span across all professions. While you may feel that a job in a clinic or community best suits your aspirations, another student may want to work in sales or marketing and decide that studying psychology better helps them understand consumer behavior. We'll cover all these roles and more in the following sections.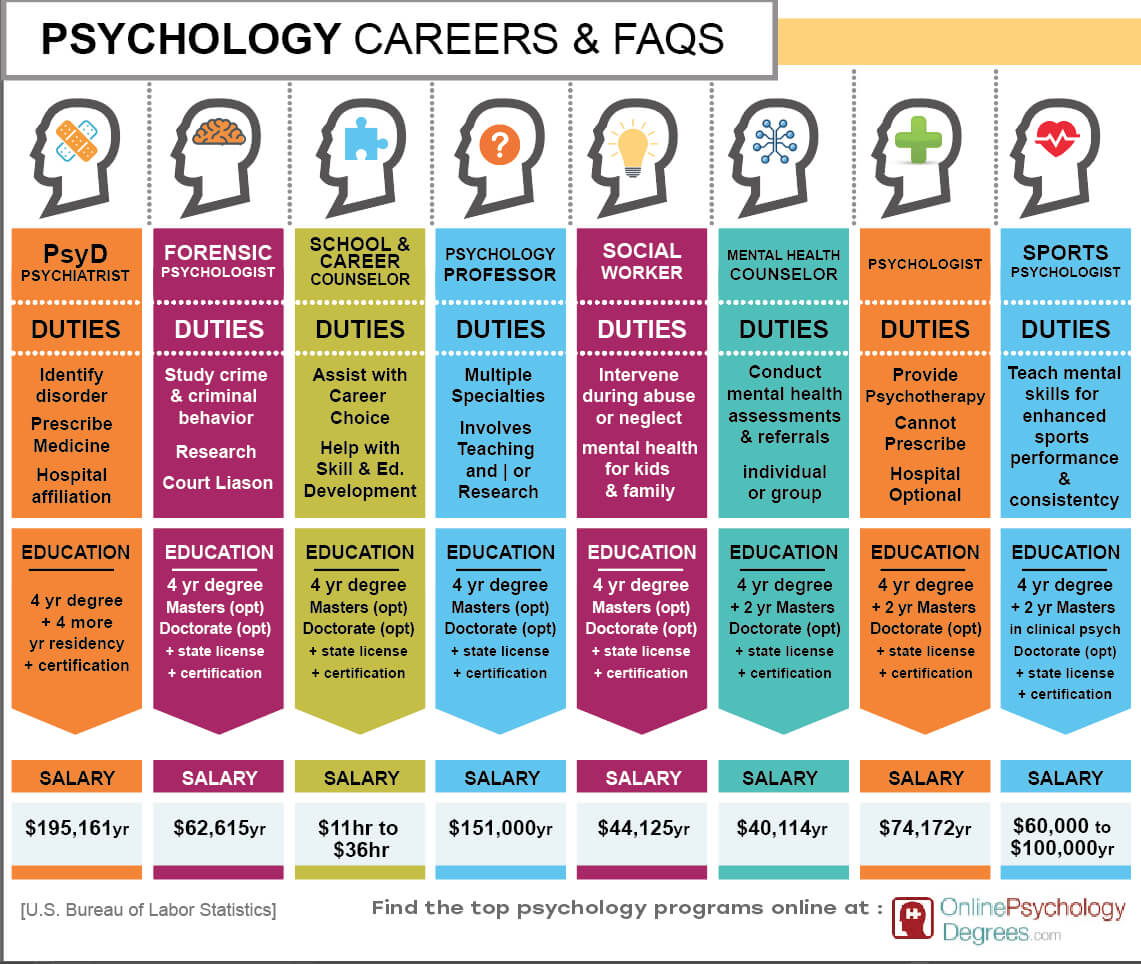 Psychology Careers with an Associate Degree
Some students decide to start with an associate degree to ensure they enjoy coursework before progressing to a higher degree. Courses typically transfer to a bachelor's, making it easy to further your education if you desire. Jobs available at this level include:
Careers in Psychology with a Bachelor's Degree
Bachelor's degrees in psychology and related subjects allow graduates to take on entry-level positions in the field, but they cannot seek licensure at this stage. You may find that you enjoy more administrative work (e.g., program development, mental health education, etc.) and decide this degree best serves you. Or, you may decide to pursue more clinical roles. If that's the case, you'll likely need to progress into graduate study. Common positions at this level include:
Psychology Careers with a Master's Degree
If pursuing a master's degree in psychology, chances are you hope to find employment as a counselor, therapist, or social worker. If you want to use the title of psychologist, you must complete a doctorate program. Some students may aspire to work as a professor, using their knowledge of the discipline to educate the next generation of psychology professionals. While some adjunct professors may qualify for a position with a master's degree, most colleges and universities prefer candidates with a doctorate. Other learners may gravitate towards research positions, desiring to advance the field with new findings and studies. Some support positions exist for these individuals, but again, most employers seek applicants who hold a doctorate degree. Plenty of roles exist at this level, however, and we'll explore a few of them in the following table.
List of Master's in Psychology Jobs
| | | | | |
| --- | --- | --- | --- | --- |
| | Job Description | Degree Requirements | Licensing Requirements | 2018 Salary |
| Adjunct Instructor | Adjunct professors work in contract positions to teach online and in-person college courses. They may work for several institutions concurrently to supplement salaries. | Master's in Psychology | N/A | $35,334 |
| Career Counselor | Career counselors provide support and resources to students and adults alike about potential careers. They evaluate interests and abilities, supply resources, and help create plans of action. | Master's in School Counseling | State-issued credential | $56,310 |
| Child Therapist | Child therapists treat children and adolescents for a number of behavioral, emotional, and/or mental health issues. | Master's in Counseling or Social Work | State-issued license | $43,453 |
| Human Resources Manager | These professionals work for many types of companies to oversee staff and manage administrative functions. | Master's in Industrial and Organizational Psychology | N/A | $113,300 |
| Licensed Clinical Social Worker | LCSWs provide therapy and counseling to clients experiencing substance abuse, mental health issues, physical abuse, or family crises. | Master's in Social Work | State-issued license | $49,470 |
| Marriage and Family Therapist | These specialists work with children, couples, individuals, and families facing relational issues. They provide counseling and referrals. | Master's in Psychology or Marriage and Family Therapy | State-issued license | $50,090 |
| Mental Health Counselor | Job responsibilities include providing evaluations, counseling, support, and treatment plans for patients with mental health concerns. | Master's in Psychology, Social Work, or Mental Health Counseling | State-issued license | $44,630 |
| Research Assistant | Research assistants work in laboratories or in the field to conduct tests and studies on psychology-related topics. They are overseen by research directors. | Master's in Psychology | N/A | $46,640 |
| School Counselor | Working in primary and secondary school settings, these counselors help children address issues related to school, family, friendships, and any other personal/academic concerns they may face. | Master's in School Counseling | State-issued license | $56,310 |
| Substance Abuse Counselor | These counselors support clients facing addiction issues related to alcohol, drugs, or other substances manage their recovery and find support along the way. | Master's in Psychology, Social Work, or Substance Abuse Counseling | State-issued license | $44,630 |
Psychology Careers with a Doctorate
If pursuing a doctorate in psychology, you most likely want to work as a licensed psychologist, researcher, or professor. Each of these roles provides meaningful career paths that allow you to harness advanced knowledge, theory, and psychological frameworks to help others and advance the discipline. Psychologists at this level can specialize in myriad areas. You may find yourself most interested in child or educational psychology, or you may find the way forensic psychology intersects with the legal profession especially fascinating. Regardless of your interests, a specialization exists to help you gain employment in that arena. We review some of the most common jobs for graduates of doctorate programs in the following table.
List of Careers with a Doctorate in Psychology
| | | | | |
| --- | --- | --- | --- | --- |
| | Job Description | Degree Requirements | Licensing Requirements | 2018 Salary |
| Behavioral Psychologist | A typical day involves observing people to better understand how they behave, with emphasis on addressing problematic emotional or behavioral responses. | Ph.D. in Psychology with specialization in Behavioral Psychology | State-issued license | m$72,778do |
| Child Psychologist | Child psychologists work to provide general counseling services as well as specific support for issues such as autism, trauma, or learning difficulties. | Ph.D. in Clinical or Child Psychology | State-issued license | $68,798 |
| Clinical Psychologist | These professionals provide direct care to patients of all ages who are seeking services related to behavioral, emotional, mental, and social health issues. | Ph.D. or Psy.D. in Clinical Psychology | State-issued license | $77,250 |
| Developmental Psychologist | Developmental psychologists work in research and clinical positions to address how human development impacts individuals as they age and move across the lifespan. | Ph.D. or Psy.D. in Developmental Psychology | State-issued License | $75,956 |
| Educational Psychologist | Typically working in school settings, these psychologists evaluate student performance, oversee teacher training in student mental health, and provide some direct care services. | Ph.D. in Psychology with specialization in Educational Psychology | State-issued License | $75,749 |
| Forensic Psychologist | Forensic psychologists combine theories of psychology, criminal justice, law, and administration to evaluate the mental state of both the accused and the accuser. | Ph.D. or Psy.D. in Clinical Psychology with a specialization in Forensic Psychology | State-issued License | $66,295 |
| Geropsychologist | Working in clinical or research positions, geropsychologists treat psychiatric illnesses or disorders in elderly patients and do research to learn more about these issues. | Ph.D. or Psy.D. in Geriatric Psychology | State-issued license | $75,956 |
| Lab Manager | Lab managers supervise research projects and experiments, manage staff members, apply for funding, and ensure regulations are followed. | Ph.D. in Clinical Psychology | Some states require licensure | $67,891 |
| Psychiatrist | Operating as mental health doctors, psychiatrists diagnose and treat mental health issues with psychotherapy, counseling, medication, and rehabilitation. | Doctor of Medicine (M.D) | State-issued License | $201,530 |
| Psychology Professor | Psychology teach college students about psychology by giving lectures, assigning projects, grading exams, and helping students with academic and professional decisions. | Ph.D. in Psychology | N/A | $78,470 |
| Psychology Researcher | Psychology researchers complete lab testing and fieldwork studies to learn more about the human brain and how it behaves. | Ph.D. in Psychology | N/A | $78,205 |
| School Psychologist | School psychologists support K-12 learners who are facing academic or personal challenges in order to help improve their performance and offer interventions. | Ph.D. in School or Developmental Psychology | State-issued License | $76,990 |
| Social Psychologist | Primarily focused in research, these psychologists seek to understand how social environments, settings, and experiences shape human behavior and understanding. | Ph.D. in Social Psychology | State-issued License | $75,956 |
| Sports Psychologist | These psychologists work with athletes at all levels to help address any mental, emotional, or behavioral issues affecting their ability to excel in their sport. | Ph.D. in Psychology or Clinical Psychology with specialization in Sports Psychology | State-issued License | $71,139 |
Job Growth for Psychology Professions
Many psychology and psychology-related jobs are expected to see substantial growth in the coming years. Careers with high rates of growth include:
Benefits of a Career in Psychology
Working in the field of psychology offers substantial benefits in areas of personal satisfaction, professional growth, and salary potential. While you may initially feel drawn to positions in this discipline because you know many practitioners make salaries above the national average for all roles, working in psychology also allows you to make a difference in the lives of others by helping them improve their situations and feel empowered in their mental health decisions. If you enjoy interacting with others, psychology also offers the potential to work with many new and different types of people on a daily basis.
If planning to complete a doctorate degree and work in the highest echelons of the field, you also have much flexibility in terms of when and where you work. While some practitioners opt to work in formal settings such as hospitals and clinics, others decide to open private practices and embrace their entrepreneurial spirits. Additionally, psychology may be appealing if you enjoy the idea of lifelong learning. Because the discipline is always evolving as new research informs approaches, you'll never feel stagnant in your work.
Traits of People Successful in the Psychology Field
To find success in a psychology career, you'll need to possess (or at least grow) several skills. Some of these may be innate while others may be gained during the course of an educational program. Top traits include:
Oral and written communication. Whether communicating with a client or writing a report on your latest research findings, knowing how to convey nuanced and multifaceted information clearly and concisely is crucial in this industry.
Problem-solving. As with any other profession that deals largely with human emotion and brain chemistry, not all answers are clear cut and easy to discern. Not all patients will exhibit symptoms or express experiences that you learned about in a textbook. Being able to problem solve and come up with innovative treatment plans is a hallmark of a great psychology professional.
Ability to empathize. When working in clinical roles, clients are often extremely vulnerable about moments in their life, and they might not even feel comfortable sharing with their closest friends or family members. In a practitioner-to-client relationship, you must be able to show empathy and offer services in a non-judgmental way.
Research. The field of psychology relies heavily on research to both find appropriate client treatments and further the field. Whether acting as a researcher or reviewing academic journals about advancements in the field, you must know how to conduct and use research findings.
Resources for Future Psychology Professionals
{{ school.SchoolName }}
See more programs