10 Psychology Careers Worth Going to School For
A lot of students nowadays worry about whether or not their education will pay off, especially with so much time and money invested. They're concerned that finding a job may be easier said than done. Or, they worry they'll find a job after graduation but the salary won't warrant the effort spent on education.
Getting a psychology degree opens the door to a wide variety of opportunities and specialties. Of course, your interests and goals are critical factors in deciding on a career path. However, job market, potential salary, and the time it takes to earn an education are other factors to consider (careers in psychology generally require anywhere between two to eight years of post-graduate education). Having a fancy degree and no job is probably not the future you are envisioning for yourself!
Below is a list of 10 psychology careers that are "worth" going to school for. They have high job growth, competitive salaries, require less education than is typical for careers in psychology, or have other unique advantages.
<!- mfunc feat_school ->
Featured Programs:
Sponsored School(s)
<!- /mfunc feat_school ->
Private Practice Clinical Therapist
Clinical therapists in private practice meet with patients to help identify their emotional, mental, and behavioral concerns. They develop treatment plans to help clients achieve their mental health goals. Therapists generally work with a broad spectrum of patients — both age-wise and with regard to the severity of their issues.
Why It's Worth It
The average therapy session is $75 to $150 per hour. Depending on the number of patients you treat and any expenses that might be involved in running your practice, you can earn one of the higher salaries in the field of psychology. You can complete the required master's or doctorate degree in two to four years — which is less than the time you would spend to become a psychiatrist.
Once you complete your education, you can feel pretty confident that you will find employment. According to the Bureau of Labor Statistics (BLS), this career is expected to grow by more than 11% (14.600 job openings) by 2028 — which places this career in a three-way tie for the fastest-growing field on our list!
Other added benefits of this career are flexible hours and choice about where you practice. Many clinical therapists work from home or in their own office, but you may have the option to work in mental health centers, clinics, hospitals, and schools.
School Psychologist
School psychologists can work in a variety of educational settings, from elementary schools to secondary schools to colleges. They work with students either individually or in a group setting to help handle behavioral issues, learning disabilities, or emotional concerns. Duties may include offering counseling services, helping students create an actionable path to reach their goals, and meeting with parents or teachers to discuss a student.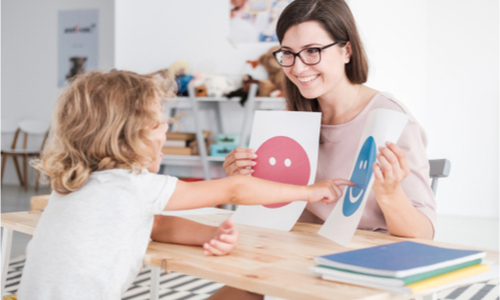 Why It's Worth It
As a school psychologist, no two days are the same. You will typically work with different students every day, and your approaches and treatment plans will vary according to a student's unique concerns.
You can earn your master's or post-graduate certificate in two to four years — and then go on to earn the not-so-shoddy median salary of $76,900 a year. In addition, careers in school psychology are expected to grow more than 11% (14,600 jobs) by 2028.
Another benefit of the job is getting to kick back over the summer and holidays, since most school psychologists have the same schedule that teachers do.
Special Education Teacher
Although a special education teacher requires teacher training, it's a career that involves many of the skills that are important in psychology, such as the ability to actively listen, be perceptive with regard to the feelings of others, and provide emotional support. Special education teachers provide instruction and help students with disabilities — a broad designation that includes students with physical, learning, and emotional issues.
Most special education teachers work in a traditional classroom setting; however, they can also be found in hospitals and residential treatment centers. Duties include creating lesson plans, implementing instruction, and evaluating students. They sometimes also collaborate with other teachers and parents.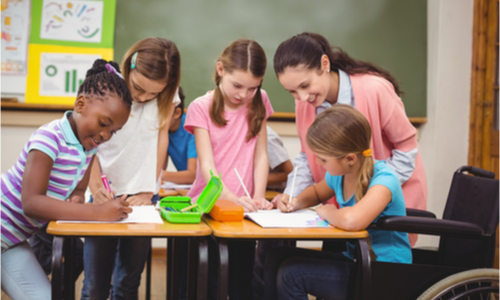 Why It's Worth It
As children with disabilities are being diagnosed at early stages and schools are moving toward integrating special needs students into regular classrooms, special education teachers are in particularly high demand in this ever-evolving field.
Job growth for this position differs somewhat based on grade level, but if you are interested in teaching special education at the preschool level, you can expect a dynamite growth rate of up to 10% by 2028. And, although salary varies by location, mean wages can come close to $80,000 in some states. This salary is even sweeter when you consider that you can earn your post-graduate degree in two to four years.
As a special education teacher you will get the opportunity to work in a smaller teacher to student ratio as compared with general classroom teachers. This means you can develop relationships with your students and tailor your teaching to their specific needs. And, just like other teachers, you will probably get summers off!
Career/Vocational Counselor
Career counselors use aptitude and achievement tests to help both students and adults land a job. They may evaluate a client's background, skills, work history, and educational training while helping them set realistic career goals and improve interviewing or networking skills. They may also collect information about schools, programs, and career opportunities for their clients.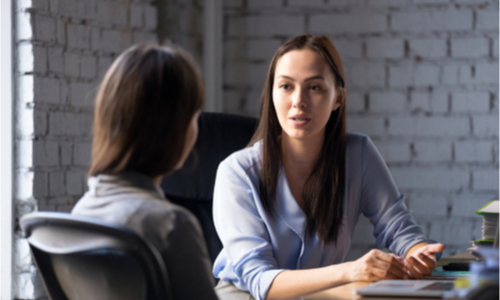 Why It's Worth It
If you're interested in having options with regard to work setting and client population, becoming a career or vocational counselor might be a great choice for you. Although many career counselors work with students in K–12 schools, colleges, and universities, they also work with adults in career centers, state educational services, and healthcare facilities.
All you need to enter this field is a master's degree, which requires two years of postgraduate work. Your salary may depend on your work setting. For example, career counselors in elementary and secondary schools earned a median salary of $63,280 as of May 2018. With 37,300 job openings projected by 2028 (an increase of 7–10%), you can't go wrong with this career!
Corporate Manager
Although becoming a corporate manager generally requires schooling in business, having knowledge of concepts in psychology can provide a foundation that will enable you to understand the people you work with — what makes them tick, their work styles, personalities, and emotional needs. A corporate manager may have a wide range of duties, including supervising their company's activities and employees and formulating policies for the overall direction of the company.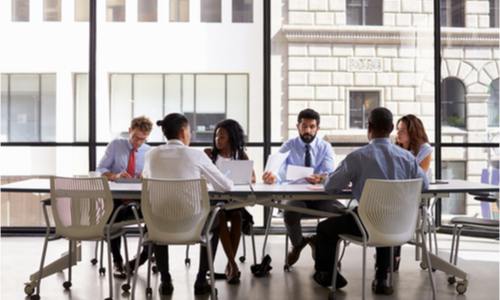 Why It's Worth It
Working in a healthcare setting with troubled patients is not for everyone. If you have a strong interest in psychology but want to apply it in a nontraditional manner, becoming a corporate manager might be an ideal solution.
Corporate managers can earn lucrative salaries depending on the organization they work for. The Bureau of Labor Statics reports that the median salary for high-level executives is $100,930 per year; however, many companies also provide bonuses and merit pay. Requirements are typically a bachelor's degree and work experience. And as long as there are corporations and other businesses out there, there will be job opportunities aplenty.
Engineering Psychologist
An engineering psychologist analyzes the interaction between people and machines, tasks and environments. Their main focus is on safety — minimizing the risk of accidents and other errors during the process of engineering products or systems. They analyze and explore the ways people interact with technology and apply that knowledge to determine the causes of workplace accidents and implement safer procedures.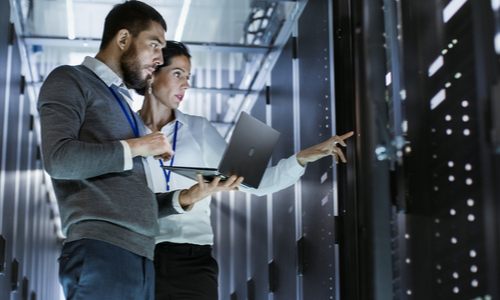 Why It's Worth It
Engineering psychology is a relatively new field, and as it grows its applications are likely to expand into new territory. As an engineering psychologist, you will be part of a field that is vibrant and evolving — and growing rapidly.
According to a study by the Human Factors and Ergonomics Society, master's-level professionals can earn $90,164 in business settings, $90,500 in government, and $75,150 in university positions — an excellent return on your educational investment.
Genetics Counselor
Genetics counselors work with patients who have genetically inherited conditions. They may analyze a patient's DNA to determine their risk factors for a disease or disorder, provide genetic testing, and counsel patients and their families to cope with a diagnosis. They may work in a hospital, university, or private clinic.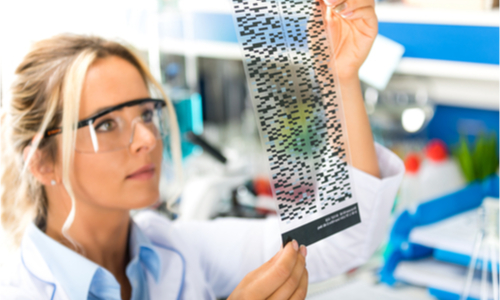 Why It's Worth It
Recessive genes. Alleles. Chromosomes. Mendel. If this is the language you speak — and you also have an interest in helping people — you will probably thrive as a genetics counselor. Biology majors, we have you covered!
Two years of postgraduate education is all you need to start your career. And median salaries as of 2018 were $80,370.
Forensic Psychologist
Law enforcement, criminal justice, and psychology all come together in this dynamic field. Forensic psychologists use their knowledge of the human mind to analyze criminal behavior and develop profiles to aid in solving and preventing crime. They may also work with prisoners to assess their mental state and provide therapy as needed.
Why It's Worth It
If you are one of those people who gravitate toward true crime stories and are intrigued by how criminals think and behave, then this career is one you should put on your short list. Keep in mind, though, that you will also need a strong sense of empathy, since you may be working with people whose actions are disturbing. This is just one of the things that makes forensic psychology such a challenging career.
Salary varies widely by experience, but payscale.com reports that mid-career level forensic scientists earn a median salary of $84,000, with salaries reaching as high as $128,000.
Healthcare Social Worker
Healthcare social workers counsel and advocate for families who need help paying for and dealing with acute, chronic, or terminal diseases. They may advise on other vital healthcare services, provide patient education and counseling services, and offer patients access to healthcare. Duties include analyzing a patient's medical records and needs, advocating for patients, investigating child abuse claims, modifying treatment plans, and monitoring a client's progress.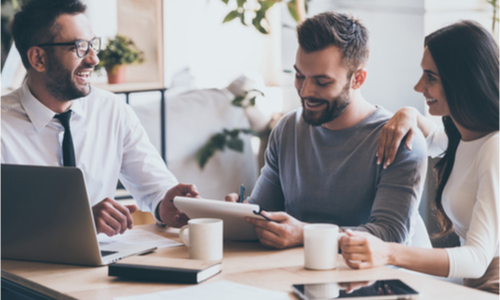 Why It's Worth It
Becoming a healthcare social worker gives you a chance to work toward social justice. You will provide services for often neglected populations and develop strong relationships with people from diverse backgrounds.
You will typically only need to complete two years of post-graduate work in order to launch your career. And you will be in desperate need — job growth is a whopping 11%, with over 22,200 jobs openings expected by 2028.
Sports Psychologist
A sports psychologist is a licensed mental health professional who works with athletes of all types and ages. They help athletes control anxiety, boost their performance, and recover emotionally after an injury. Duties may include creating workshops for relaxation, counseling athletes, and enhancing performance through the use of visualization techniques.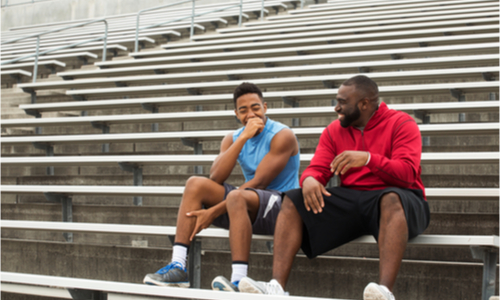 Why It's Worth It
Combine your love of psychology and sports in this unique career. You will work hands-on with athletes of all kinds and all ages. In addition, your work might involve travel as you counsel athletes before and during competitions.
If you want to work with university athletes, you can earn $60,000 to $80,000 a year; In private practice, you may earn significantly more.
______________________________________________________________________
Notes:
Unless otherwise noted, all statistics are taken from the Bureau of Labor Statistics (BLS) or Occupational Handbook. Reported salaries are as of May 2018; job growth refers to the time period 2018 to 2026.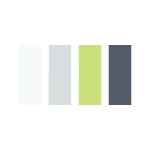 <!- mfunc feat_school ->
Featured Programs:
Sponsored School(s)
<!- /mfunc feat_school ->